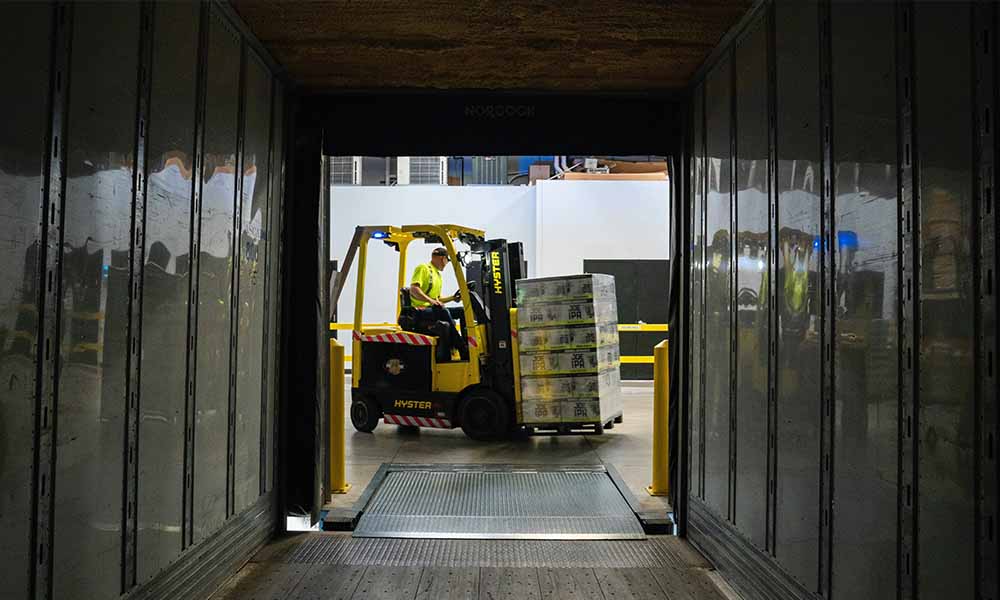 Photo Credit: Elevate
1. Be Prepared
When operating a forklift, it is important to take every safety precaution. Proper training is essential before getting behind the wheel, as driving a forklift can be just as hazardous or more so than operating a motor vehicle. There are several locations that provide fork lift training Vancouver. OSHA statistics indicate that there are roughly 85 forklift fatalities and 34,900 serious injuries each year, with 42 percent of the forklift fatalities from the operator's being crushed by a tipping vehicle. This makes it all the more important to make sure you receive certified forklift training.
Forklift drivers make sure their seatbelt is always securely fastened, making sure not to drive with the lift up and to leave the vehicle with three points of contact carefully. All these points and more should be put into practice.
2. Run Constant Checkups
In a guide to forklift training it will tell you to run a checklist of these following steps before even starting the engine.
Check tires, lights, horn, brakes, backup alarms and fluid levels,
Examine all the moving and load-supporting parts of the forklift.
Buckle seat belt,
Not only is it important for the fork operators to run safety checks, but it is important that companies make sure they are following the standards and practices in place. It is shocking how many companies do not maintain the requirements for safe working conditions, as with just a little bit of safety precaution disasters can be prevented.
3. Understand the Capabilities of Your Forklift
Understanding the stability triangle is one the most important if not thee most important factor in driving a forklift and is the topic that will be one of the major focus in any forklift training and license certification course. Once an operator has mastered the triangle of stability driving a forklift will feel like an extension of themselves and will allow for the operator to feel much more comfortable when it comes to dealing with heavier loads.
Other important points to keep in mind when operating a forklift from Workspace:
Most rollovers involve un laden forklifts, making the truck more unstable than a laden forklift with the load being carried low.
When operators apply the brakes on a laden forklift they easily lose stability.
Even when stationary, forklifts have a small stability safety margin – 30-50% at rated load with the load down and 15-20% with a fully elevated load and mast vertical.
Manufacturers information does not always detail if the forklift's working capacity has been restricted by stability tests relating to (lateral) overturning or (longitudinal) tip over.
Manufacturers do not always include vital information, such as the forklift's capacity at full forward tilt of the mast and at maximum load elevation, in their sales information.
4. Understand the rules and your machine
When obtaining a forklift training and license there are several options for training locations and programs in BC. Although no matter where you train to operate a forklift the general rules for your machinery remain the same as the OSHA best practices for maintaining visibility include:
Keep a clear view.
Always look in the direction of travel.
Use spotters or aids such as rear-view mirrors to boost visibility.
Use headlights if working at night, outdoors or in areas in which additional lighting would improve visibility. OSHA requires forklifts to be equipped with headlights when general lighting is less than 2 lumens per square foot.
Once these visibility practices have been mastered then it is very important for the driver understands the triangle of stability. The triangle of stability refers to how lift trucks are made with a three-point suspensions system one on the front axel another on the back and the last located in the center of the vehicle. Following these protocols and understanding how to use your vehicle is essential to avoid unfortunate mishaps in the workplace.
5. Know the Basics of Carrying a Load
Having good Forklift training and job placement is essential to being safe when being a Forklift operator. As it is not only important to understand the basics of forklift operation but to make sure your working within a company that follows the safety requirements. As a workers' safety has to come first, that is why a driver has to understand how to address the basics of carrying a load. A driver should have an understanding of load bearing and how to assess a loads stability and how to balance it safely. Loads must not exceed the weight limit and must be centered so that the triangle of stability is not off balanced. The load must be placed on a flat stable surface, squarely placed on top of a load of similar weight. To place the load, the operator has to make sure they have enough clearance from the ground for stacking, OSHA recommends lifting the load above the lower stack by about 10 centimeters, or 4 inches.
If your looking to get your forklift training today, check out our forklift courses at: https://pacificfirstaid.ca/courses/forklift-training-2/
---